Gen info
- The local name "Vicks" refers to the smell of the roots, which is similar to the smell of the over-the-counter medication, Vicks Vapor Rub. (21)
- The common name "root beer plant" refers to the smell of the volatile compound from the plant, methyl salicylate, which is used as flavoring for root beer drink. (12)
- Polygala paniculata is a species of flowering plant in the milkwort family (Polygalaceae) .
- Etymology: The genus name means "lot of milk", referring to the belief that cattle grazing on the plant will produce more milk. The species name 'paniculata' refers "after panicule", referring to the structure of the inflorescence (branching inflorescence).
Botany
Polygala paniculata is annual, erect herb, 10-50 cm tall. Stems terete, mostly much branched, glandular pubescent. Leaves alternate, subsessile, lowest 4 or 5 often in pseudowhorls; leaf blade lanceolate to linear-lanceolate, 5-20 × 1-4 mm, 1-veined, lateral veins absent, base attenuate, margin entire, apex acute. Racemes terminal or opposite to leaves, 2-15 cm. Pedicel 0.5-1 mm; basal bracteoles caducous, lanceolate, apex acute. Sepals 5; outer sepals 3, ± elliptic, apex obtuse; inner sepals 2, purple, petaloid, elliptic-oblong, ca. 2 mm, 3-veined. Petals 3, white or violet; lateral petals narrowly ovate-lanceolate, attenuate to apex; keel apex with multifid appendages. Stamens 8, forming an open staminal sheath glabrous inside and split at top into 8 very short free filaments. Ovary obovoid to nearly globose; style straight, 1.5-2 × as long as ovary, apex expanded into an oblique broad cup, upper portion of which ends in tuft of hair; stigma at base of cup. Capsule oblong, ca. 2 mm, not winged, apex notched, glabrous. Seeds black, oblong, densely white pubescent; strophiole small, with 2 membranous appendages. (Flora of China @ efloras.org) (2)

Distribution
- Introduced to the Philippines.
- Native range is Mexico to Tropical America.
- Grows primarily in the seasonally dry tropical biome. (1)
- Native to grasslands with altitudes between 350 to 1,700 m.
Constituents
- Study of air-dried whole plant yielded two xanthones, 1-hydroxy-5-methoxy-2,3-methylenedioxyxanthone (1) and 1,5-dihydroxy-2,3-dimethoxyxanthone (2), together with coumarin murragatin and flavonol rutin. (9)
- Study of petrol ether and chloroform extracts yielded four coumarins, namely: aurapten, phebalosin, murrangatin, and 7-methoxy-8-(1,4-dihydroxy-3-methyl-2-butenyl) coumarin. (13)
- Phytochemical studies have characterized two sterols, spinasterol and δ-25-spinasterol, and the minor 1-hydroxy-2,3,5-trimethoxyxanthone (Cristiano et al, 2003). (3)
Properties
- Studies have suggest bio-insecticidal, antidiabetic, antidepressant, antinociceptive, neuroprotective, antioxidant, gastroprotective, antileishmanial, vasorelaxant, hypotensive properties.

Parts used
Roots, leaves, aerial parts.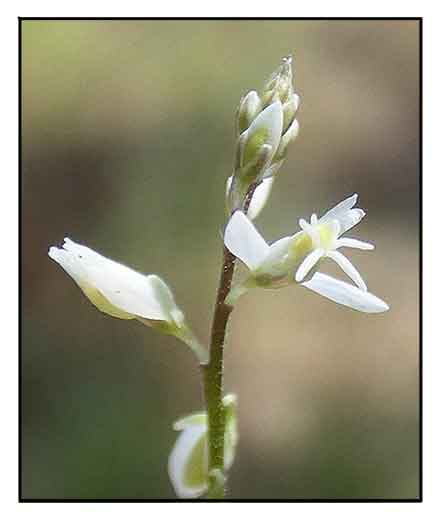 Uses
Folkloric
- The Bagobo Tagabawa tribe of Mindanao use decoction of roots for treatment of headache. (21)
- Used for snake bites and blenorrhagia.
- In Brazil, used for treatment of physical traumas.
- In Malaysia, root decoction drunk as tea to cure coughs and fever. (9)
- In Indonesia, used for treatment of cough, bronchitis, asthma. (11) Used for treatment of gonorrhea, rheumatism, and for wound healing. (14) Used for tonsillitis, pre- and post-partum treatments. (19)
- In Vietnam, used for treatment of painful limbs, runny nose, flatulence. (15) Leaves eaten raw or decoction of root or whole plant drunk for diarrhea. Used for tinea versicolor, pityriasis, itching, fever, and urinary disorders. Whole plant used in steam baths for people with high fever. (15)
- Sweetened infusion of aerial parts used for treatment of gonorrhea and lumbago. Pulverized wounds applied to wounds. (18)

Studies
• Antidepressant: Study evaluated the antidepressant-like effect of hydroalcoholic extract of P. paniculata and mechanisms involved using forced swimming test (FST) and open filed test in mice. Results showed significant reduction in immobility time in FST (0.01-30 mg/kg) compared to control, without changing locomotor activity. The antidepressant-like action is likely mediated by an interaction with serotonergic (50HT2A receptors), noradrenergic (α2 and ß-receptor) and dopaminergic (D1 and D2 receptors) systems. (3)
• Bio-Insecticidal / Ae. aegypti / Scented Root: Study evaluated the effect of the Insecticide Score of P. paniculata root extracts on the mortality of Ae. aegypti mosquitoes based on KT50. The extract of P. paniculata at concentration of 25% showed potential for use as a bio-insecticide in controlling Ae. aegypti mosquitoes. (4)
Antidiabetic / α-Glucosidase Inhibitory Activity: Study evaluated ethanolic extracts of P. paniculata for glucosidase inhibitory activity. Results showed potential as antidiabetic with α-glucosidase inhibition with IC50 of 0.518 µg/mL. (5)
• Source of Methyl Salicylate: Methyl salicylate or salicylic acid is used in flavoring of foods, candies, beverages, and pharmaceuticals. It is also an odorant, perfume, and ultraviolet absorber in cosmetics, and used in traditional medicine. Study showed plantlets of P. paniculata produced a high level of methyl salicylate and BAP. Plantlets cultured on control MS medium showed more than 80% salicylate, while the addiction of BAP at 2 and 4 mgL concentrations reduced methyl salicylate production to 71% and 21%, respectively. Results showed the tissue culture of P. paniculata is a potential source of methyl salicylate. (6)
• Antinociceptive: Study evaluated the antinociceptive effects of hydroalcoholic extract of P. paniculata in chemical and thermal behavioral models of pain in mice. Orally, the extract produced potent and dose dependent inhibition of acetic acid-induced visceral pain. In the formalin test, the extract caused significant inhibition of both early (neurogenic pain) and late (inflammatory pain) phases of formalin-induced licking. Capsaicin-induced nociception was reduced at a dose of only 1.0 mg/kg orally. The extract significantly reduced cinnamaldehyde-induced nociception and caused significant and dose-dependent inhibition of glutamate-induced pain. Results suggest inhibition of glutamatergic ionotropic receptors may account for the antinociceptive action. (7)
• Neuroprotective / MeHg Neurotoxicity: Study evaluated the protective effects of Polygala paniculata extract against methylmercury (MeHg)-induced neurotoxicity in adult mice. MeHg exposure significantly inhibited glutathione peroxidase and increased glutathione reductase activity, while levels of thiobarbituric acid reactive substances were increased in the cerebral cortex and cerebellum. Except for glutathione reductase activity, all the alterations were prevented by the extract. Results showed in-vivo protective effects against MeHg-induced neurotoxicity. (10)
• Antibacterial: Study evaluated the antibacterial activity of ethanol extracts of balm plants against Staphylococcus aureus and Escherichia coli using agar diffusion methods and concentrations of 6.25, 12.5, 25, and 50%, with chloramphenicol as positive control. Results showed antibacterial activity with a medium category. (14)
• Antileishmanial / Antimicrobial / P. paniculata Root Endophyte: Study reports on the isolation and identification of an endophytic strain of Burkholderia cepacia (COPS strain) associated with Polygala paniculata roots. The root endophyte B. cepacia COPS showed activity against S. aureus, E. faecalis, M. luteus, E. coli, and C. albicans and broad-spectrum activity against phytopathogenic fungi. The COPS crude extract also exhibited potent cytotoxic effects on Leishmania infantum and L. major promastigote forms with 78.25% and 57.30% inhibition. (16)
• Gastroprotective / Ethanol and Indomethacin Induced Lesions / Antioxidant: Study evaluated the effects of hydroalcoholic extract of P. paniculata on acute lesions induced by ethanol (70% p.o.) and indomethacin (20 mg/kg s.c.) in rats. Treatment decreased ulcer index and maintained gastric mucus production in acute gastric lesions caused by ethanol, and partially protected mucosa against indomethacin-induced lesions. Antioxidant activity was observed in DPPH free radical scavenging assay, which was attributed to isolated flavonoid compound rutin. The gastroprotective effect may involve prostaglandins and cytoprotective factors such as antioxidant activity and maintenance of mucus production. (17)
• Vasorelaxant / Hypotensive / Flavonoid Rutin: Study evaluated the in vitro and in vivo cardiovascular effects of crude hydroalcoholic extract from Polygala paniculata (HEPP). In endothelium-intact aortic rings, HEPP (30-1000 µg/ml) produced significant non-concentration dependent relaxing effect (≈40%). In anaesthetized rats, the HEPP (30-300 mg/kg) caused a dose-dependent and sustained hypotensive action. Rutin (103 mg/kg) administered intravenously also caused a dose-dependent hypotensive effect in rats. The potent hypotensive and vasorelaxant effects were dependent on nitric oxide/guanylate cyclase pathway. The effect could be related, at least in part, to the rutin content. (20)
Availability
Wild-crafted.