Gen info
- Calamus is a genus of flowering plants in the palm family, Arecaceae, with an estimated 400 species in the genus, all native to tropical and subtropical Asia, Africa, and Australia.. (11)
- Rattans are naturally found in the Philippine dipterocarp forests and are distributed throughout the country. Four genera, namely Calamus, Daemonorops, Korthalsia, Plectocomia, with 64 species are found in the country.
- Calamus, with 44 species and 23 varieties, is the largest of the four genera. It is widely distributed, with some species as narrow endemics and confined to specific islands or mountains. Daemonorops is the second largest genus with 14 species and one variety, also widely distributed, many of which are confined to islands and mountains. (12)
- Plectocomia species in the Philippines are P. elmeri, which is endemic in the Philippines, and P. elongata, which is common in Thailand, the Malay Peninsula, m Sumatra, Java, and Borneo
- Calamus rattan species in the Philippines include: Abuan (Calamus diepenhorstii), Apas (C. reyesianus), Arorog (C. javaensis), Arugda (C. arugda), Babuyan (C. usitatus), Balala (C. multinervis), Banakbo (C. megaphyllus), Bayabong (C. manillensis), Borangan (C. ornatus), Butarak (C. vidalianus), Dagdag (C. siphonospathus), Dalimban (C. melanorhynchus), Ditaan (C. ochrolepis), Douung-douung (C. cumingianus), Hamlis (C. discolor), Kalapit (C. microcarpus), Kulakling (C. microsphaerion), Kurakling (C. spinofolius), Labit (C. microsphaerion), Lambutan (C. halconensis var. dimorphacanthus), Limuran (C. ornatus), Matkong (C. mitis), Palaklakanin sumulid (`Daemonorops ochrolepis), Palanog (C. symphysipus), Palasan (C. merrillii), Panlis (C. ramulosus), Pitpit (C. curranii), Sababai (C. elmerianus), Saba-ong (C. grandifolius), Sarani (C. moseleyanus), Sika (C. caesius), Tumalim (C. mindorensis). (12) (13)
- In the Philippines, rattan is a significant source of domestic products and furniture export commerce.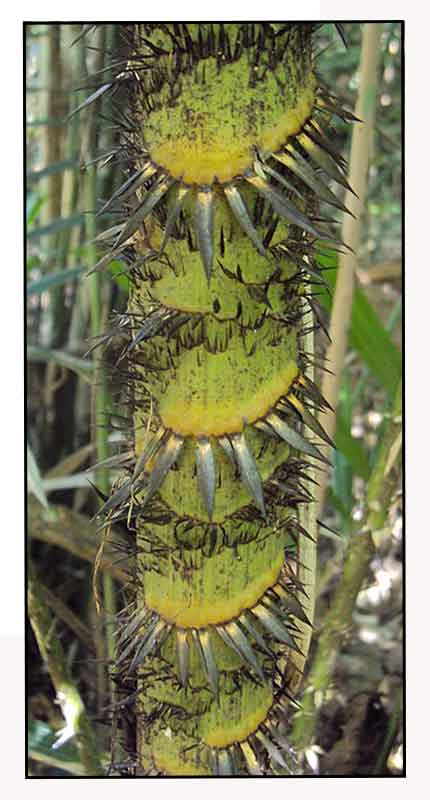 Botany
Calamus rotang, a dioecious rattan palm, is a slender thicket forming climbing rattan palm; stem with leaf-sheath 8-16 mm in diameter; internodes 40 cm or more long. Leaves are ecirrate, up to 80 cm long; leaf sheath with distinct knee, armed with scattered, broad-based 1 cm long yellowish spines, each pointing downwards; flagellum slender, about 2 m long; petiole absent' leaflets numerous, equidistant or sub-equidistant, linear to lanceolate, 1-nerved, 10-15 cm long, 1.5 cm wide at the middle; midnerve with 2 hooks on the upper side and uniformly spinulose below; uppermost leaflets smallest. Male inflorescence flagelliform; axial part strongly aculeate; rachillae scorpioid, 12-35 cm long, with 5-12 approximate male flowers on each side of the rachilla; in male flowers corolla deeply divided into 3 segments. Female inflorescence flagelliform; partial inflorecences 15-20 cm long with 5-8 rachillae on each side; each arch-like with divaricate neuter flower. Fruit globose, apiculate, 1.3-1.5 cm long, 1.2 cm broad at the middle; fruit scales in 221 longitudinal series, finally channeled at the middle; seed flattened, 8 mm in diameter. (2)
The basal section of the plant grows vertically for 10 meters or more, after which the slender tough stem of a few centimeters in diameter grows horizontally for 200 meters or more. It is extremely flexible and uniform in thickness, with sheaths and petioles frequently armed with backward-facing spines. Leaves are pinnate and alternate, 60-80 cm long, armed with two rows of spine on the upper face. Edible fruits are top-shaped, covered with shiny, reddish-brown imbricate scales, and exude an astringent resin referred to as "dragon's blood." (1)
Distribution
- Cultivated.
- Native to India, Sri Lanka, and Myanmar.
Constituents
- Methanol extract of seeds yielded tannins, alkaloids, saponins, and flavonoids. ((observation. (see study below) (4)
- Phytoconstituent study of roots yielded flavonoids, steroids, triterpenoids and glycosides. (see study below) (5)
- Crude methanolic extract of leaves steroids, saponins, glycosides, cardenolides, flavonoids, carbohydrates, and reducing sugars. (see study below) (10)
Properties
Studies suggest antioxidant, antidiabetic, hypolipidemic, analgesic, anti-inflammatory, immunomodulatory thrombolytic properties.

Parts used
Leaves, fruits, seeds, roots.

Uses
Edibility
- Fruit is edible; exudes ab astringent red resin, which is refereed to as "dragon's blood."
- Young leaves are edible, eaten as vegetable.
Folkloric
- Roots used to treat hemorrhoids, cough, leprosy, bleeding disorders and inflammation..
Others
- Crafts: Used for making baskets, walking sticks, cane furniture, walking-sticks, umbrellas, tables, chair bottom, hammocks, and general wickerwork.
Studies
• Antioxidant / Leaves and Fruits: Study evaluated the antioxidant activity of crude methanolic extracts of leaves and fruits of Calamus rotang using four in vitro methods viz. total antioxidant activity, flavonoid and phenol content, and DPPH scavenging activity. Gallic acid equivalent was highest in the fruit extract while the quercetin equivalent was highest in the leaf extract. IC50s of leaf and fruit by DPOPH assay were comparable to standard antioxidant, 387.95, 142.01, and 25.826 µg/mL for leaf, fruit, and ascorbic acid, respectively. (3)
• CNS Depressant / Analgesic / Anti-Inflammatory / Seeds: Study evaluated a methanolic seed extract of Calamus rotang for CNS depressant (hole cross test and open field test), analgesic (acetic acid induced writhing and formalin induced pain) and anti-inflammatory (carrageenan induced paw edema) activities in rats. The methanolic seed extract significantly (p<0.01) showed the evaluated pharmacologic effects in a dose-dependent manner. Acute oral toxicity study using OECD guidelines showed the extract to be safe up to 1,600 mg/kg with no behavioral change or mortality during a 48 hour observation. (see constituents above) (4)
• Immunomodulatory / Roots: Study evaluated the immunomodulatory activity of aqueous extract of Calamus rotang root in human whole blood and peripheral blood mononuclear cells using hepatitis B vaccine (HBsAg) as antigen. Results showed remarkable increase in the number of blood counts. It showed the same pattern in nitric oxide production and estimation of CD14 FITC surface marker in human PBMC. (see constituents above) (5)
• Immunoadjuvant / Humoral and Cell Mediated Immunity / /Leaves: Study evaluated the immunoadjuvant activity of aqueous extract of Calamus rotang leaves using phosphate buffered saline against hepatitis B vaccine containing surface antigen (HBsAg). Results showed additive adjuvant activity against hepatitis B antigen and may help raise antibodies against HBsAg under challenging administration regimen. Results suggest a potential as a potent vaccine adjuvant. (6)
• Antidiarrheal / Hypoglycemic / Seed: Study evaluated the antidiarrheal and hypoglycemic effects of Calamus rotang seed extract in alloxan induced diabetic rats. Using castor-oil induced diarrhea test, the extract showed pronounced, significant (p<0.01) anti-diarrheal activity in a dose dependent manner, At higher dose, the extract showed similar antidiarrheal effect as standard loperamide. The extract showed significant reduction (p<0.01) in blood glucose. Although metformin reduced blood glucose more rapidly,, at high doses the extent of blood glucose reduction was approximately the same. (7)
• Biomorphous Porous Hydroxyapatite-Ceramics from Rattan: The three-dimensional, highly oriented pure channel anatomy of native rattan was used as template to fabricate biomorphous hydroxyapatite ceramics designed for bone regeneration scaffolds. (8)
• Immunosuppressive / Saponins / Leaves: Study evaluated the immunosuppressive activity of various doses of crude saponins extracted from leaves of Calotropis gigantea, Calamus rotang, and Artocarpus integrifolia on lymphocytes, monocytes, and granulocytes count. All three medicinal plants exhibited inhibition of monocytes and granulocyte counts. Also, the saponins inhibited nitric oxide and increased hemolytic activity in higher doses. Results suggest the saponins from the three plants showed immunosuppressive activity. (9)
• Thrombolytic / Analgesic / Leaves: Study evaluated a crude methanolic extract of leaves for phytoconstituents, analgesic and thrombolytic activities. Using acetic acid writhing method for analgesic evaluation, the extract at 200 and 400 mg/kg doses reduced abdominal writhing by 31.06% and 44.33%, respectively. The extract presented 16.2% ± 1.75% of human blood clot lysis in the thrombolytic testing. The pharmacologic activity may be due to phytoconstituents. (see constituents above) (10)
Availability
Cultivated.