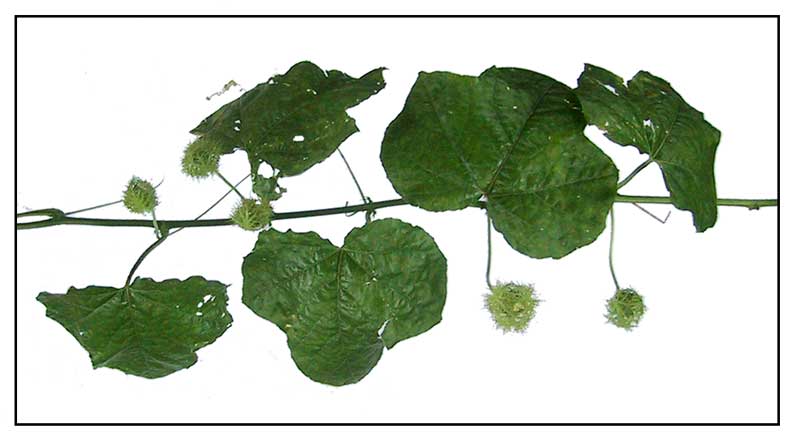 Plant pearls
- Passiflora, known as passion flowers or passion vines, is a genus of about 550 species of flowering plants in the family Passifloraceae. Most are tendril-bearing vines' some shrubs or trees. They can be woody or herbaceous. Flowers are usually showy with a distinctive corona, and are pentamerous, ripening into an indehiscent fruit with numerous seeds. (41)
- Etymology: Species epithet, foetida, derives from Latin, meaning "stinking", referring to the strong aroma emitted by damaged foliage.
- In the Philippines, the fruit of Passiflora foetida is called "Marya-marya" (Little Mary) and Santo Papa due to its resemblance to the Pope's mitre. (44)
Botany
Pasionaryang-mabaho is a herbaceous vine with slender and rounded stems, covered with prominent villous hairs. Leaves are ovate to oblong-ovate, 6 to 9 centimeters long, shallowly 3-lobed, often sinuate and ciliate, with pointed tip and heart-shaped base. Flower is solitary, white or pinkish, 3 centimeters in diameter, subtended by a prominent involucre of 3 bracts. Fruit is dry, inflated, ovoid, orange, 3 to 5 centimeters long. All parts of the plant have a disagreeable odor.
Distribution
- In waste places at low altitudes, esp. in the Laguna, Rizal and Quezon provinces.
- Introduced from tropical America.
- Now pantropic.
Constituents
- Before maturity, the leaves and green fruit contain a cyanogenetic glucoside, and in excess can be dangerous to stock.
- Study yields maltol, phytosterols, cyanogenic glycoside, flavonoids and their glycosides.
- Phytochemical screening of leaves yielded sterols, polyterpenes, flavonoids, alkaloids, and saponosides. (7)
- Screening for nutritive value yielded crude protein (25.83 to 26.05%), crude fiber (9.55 to 9.61%), crude fat (2.87 to 2.98%), ash (28.55 to 28.84%), carbohydrate (40.46 to 40.69%), and moisture (1.79 to 1.96%). (20)
- Phytochemical screening of ethanol extract of leaves yielded saponins, tannins, cardiac glycosides, alkaloid, anthraquinones, steroid, and flavonoid. (20)
- P. foetida has yielded several active constituents like hydrocyanic acid, groups of flavonoids, harman alkaloids, passifloricins, α-pyrones, and vitexin.
- Phytochemical screening yielded the presence of alkaloids, flavanoids, tannins, phenols, steroids, cardioglycosides, saponins and terpenoids. GC-MS analysis yielded 27 bioactive compounds in seed ethanolic extract of Passiflora foetida. (see study below) (30)
- Phytochemical screening of ethanol extract yielded saponins, tannins, cardiac glycosides, alkaloids, anthraquinones steroids, and flavonoid. (see study below) (31)
- Study for essential oil yielded 76 constituents with hexahydrofarnesyl acetone (14.2%) as dominant compound. Other constituents in sizable amounts are ß-eudesmol (6.5%), germacrene D, caryophyllene oxide, and ß-cedrene. (36)
- Analysis of fruit pulp yielded: total carbohydrates 1.6 mg/g, fat 8.3 mg/g, soluble protein 60 mg/g, reducing sugar 0.041 mg/g, ascorbic acid 5.77 mg/g, flavonoid 9.066 mg/g, phenolic compound 24.1 mg/g, cholesterol 1.4 mg/g, alkaloid 32.96 mg/g, amino acid 36 mg/g, calorific value 0.360 calorie/g, calcium 1923 mg/kg, magnesium 1749 mg/kg, phosphorus 0.35 mg/g. (40)
Properties
- Leaves and roots are emmenagogue.
- Flowers are pectoral.
- Studies have shown antibacterial, hepatoprotective, estrogenic, antioxidant, anti-osteoporotic, antidiabetic, antiproliferative, analgesic, anti-inflammatory, neuroprotective, antiepileptic, antiulcer, nootropic, antihypertensive, anthelmintic, antidermatophytic properties.
Parts used
Leaves, fruits, and flowers.
Uses
Edibility
- The sweetish pulp is edible when ripe.
- Young leaves and plant tips are also edible.
Folkloric
- Infusion of leaves and roots used for hysteria.
- Plant used for itchy conditions.
- Decoction of fruit used for asthma and biliousness.
- Decoction of leaves and roots used as emmenagogue.
- Fruit used as emetic.
- Leaves applied to the head for headaches and giddiness.
- In India, traditionally used for diarrhea, throat and ear infections, liver disorders, tumors, itches, fever and skin diseases and for wound dressing.
- In Malaysia, used for treatment of asthma.
- In Argentina, used to treat epilepsy.
- In Africa, used gas, colds, and pregnancy to keep the baby active.
- In French Guiana, decoction of leaf and bark mixed with the same of Annona glabra as anthelmintic for flatworms and nematodes. Decoction of fresh whole plant drunk as children's anthelmintic, for intestinal nematodes and flatworms. Decoction of dried plant used for colds and chest colds. In NW guyana, used for treatment of tuberculosis, worms, coughs and colds. (6)
- In Brazil, used as lotion or poultice for erysipelas and skin diseases with inflammation. (7)
- In Vietnam, dry leaves used in making tea to help induce sleep. (44)
Others
- Soap: Because of high saponin content, used as substitute for soap in the manufacture of soap-free detergents. (44)
Studies
• Antibacterial / Leaves: Study of PF showed the leaf extracts to have remarkable activity against all four tested bacterial pathogens (Pseudomonas putida, Vibrio cholerae, Shigella flexneri, and Streptococcus pyogenes) compared to the fruit extracts. Study supports the traditional use of the herbal extracts against a variety of diseases – diarrhea, fever, skin diseases, ear and throat infections. (1)
• Antibacterial / Roots: Study for in vitro antibacterial activity of roots of P foetida showed the methanol extract to have significant activity against K pneumonia, P aeruginosa and E coli with levofloxacin, amikacin and sparfloxacin as standard antibiotics. (4)
• Antiproliferative: One of nine selected Thai medicinal plants tested, the aerial parts of Passiflora foetida showed antiproliferative activity against SLBR3 human breast adenocarcinoma cell line. (2)
• Hepatoprotective: The ethanolic extract of fruits of Passiflora foetida significantly reduced the biomarkers of hepatic injury (SGOT, SGPT, alkaline phosphatase, GGTP). Results indicate the fruits of Pf possess hepatoprotective activity, a property that may be attributed to the presence of flavonoids. (3)
• Estrogenic Effects / Toxicity Study: Study evaluated oral acute toxicity and potential estrogenic activity of various extracts of Passiflora foetida leaves in female Wistar rats. Oral LD50 of three extracts were greater than 5000 mg/kg with no observed behavioral abnormality. Results showed an estrogenic effect with disruption followed by blockage of estrous cycle at the estrous phase, with uterotrophic activity and increase of 17ß estradiol-induced uterotrophic effect. (7)
• Analgesic / Anti-Inflammatory / Leaves: An ethanolic extract of leaves showed highly significant analgesic activity and highly significant anti-inflammatory effect. (8)
• Neuroprotective Against Cerebral Ischemia: Study evaluated an alcoholic extract for neuroprotective effect against brain damage and impairment in cerebral ischemia induced by MCA occlusion in male Wistar rats. Results showed decreased brain infarct volume in both cortical and subcortical structures, together with enhancement of neurological score and improved sensory response to both mechanical and temperature stimuli. (9)
• Harmaline / Monoamine Oxidase Inhibitory Effect: Harmaline, a beta carboline alkaloid was extracted from Passiflora leaf material. Harmaline was found to have monoamine oxidase inhibitory effect, useful for antidepressant activity. Study presents an economic, rapid, and effective separation method of harmaline from Passiflora. (10)
• Antiepileptic / Analgesic / Leaves: Study evaluated a leaf extract for antiepileptic and analgesic activity. A methanol extract of leaves showed dose-dependent anti-epileptic activity in Maximum electricshock induced and pentylenetetrazole-induced convulsions. Extract showed good analgesic activity with peripheral and central nervous system mechanisms. (11)
• Antidepressant / Leaves: Study evaluated a methanolic extract of leaves for antidepressant activity in mice. Results showed dose-dependent decrease in immobility time in both tail suspension and forced swim tests, with effects comparable to fluoxetine and imipramine. Results showed antidepressant effects in vivo, with therapeutic interest for use in the treatment of patients with depressive disorders. (12)
• Antimicrobial: Study evaluated the antimicrobial activity of ethanol and ethyl acetate extracts of leaf, root, and fruits of P. foetida against various pathogenic microorganisms. Results showed both extracts to have broad spectrum activity and very effective activity against both gram positive and gram negative organisms. (13) Disc diffusion study yielded secondary metabolites that showed potent inhibitory activity against multidrug resistant pathogenic microorganisms like S. aureus. (see constituents above) (32)
• Antihypertensive: Study evaluated various extracts of P. foetida for antihypertensive activity. An ethyl acetate extract showed significant anti-hypertensive activity, which may be due to activation of NO-dependent vasodilation and also due to the presence of flavonoids in the EA extract.   (14)
• Memory Enhancement: Study evaluated the effect of P. foetida on spatial memory both in normal and cognitive deficit conditions. Results showed the Passiflora foetida extract is a potential cognitive enhancer in both normal and cognitive deficit conditions. However, the underlying mechanism and active ingredients have yet to be determined. (15)
• Antiulcer / Antioxidant: Study evaluated the effects of an ethanolic extract of whole plant on ethanol and aspirin-induced gastric ulcer models. Results showed significant reduction of ulcer index and significantly increased gastric pH of both ethanol and aspirin-induced ulcer rats. There was significant reduction in lipid peroxidation and increased in reduced glutathione levels. (16)
• Vitexin / Leaves: Vitexin has been reported to have antioxidant, anti-inflammatory, anti-thyroid, anti-arteriosclerotic, antihypertensive, and antihepatotoxic properties. Study reports on a a simple, rapid, precise accurate high performance thin layer chromatography method for determination of vitexin from the extract of P. foetida leaves. The contents of vitexin in P. foetida leaf extracts were within the range of 0.03%-0.310%. (21)
• Chronic Toxicity Study: Study evaluated the safety of an ethanolic extract of Passiflora foetida containing 0.84% vitexin in Wistar rats given doses of 16, 160, 800, and 1600 mg/kg/day for six months. Results showed the ethanolic extract in the given doses did not induce any harmful effects in the rats. Although fatty infiltration in the adrenal cortex was noted, it is possibly physiological rather than pathological change. (22)
• Anti-Dyslipidemia / Leaves: Study evaluated ethanol extracts of P. foetida leaves for anti-dyslipidemia effect in dextrose-induced diabetic Wistar rats. A 500 mg/kb body weight of ethanol extract showed significant effect with lowering of the total cholesterol, triglycerides, LDL, and VLDL together with an HDL boosting effect. The effect may be attributed to glucose utilization and depressed mobilization of fat. (23)
• Anthelmintic / Leaves: Study evaluated the in-vitro anthelmintic activity of ethanolic extract of leaves against Indian earthworm Pheretima posthuma. Results showed significant anthelmintic activity compared to standard albendazole at 10 mg/ml concentration. Phytochemical screening yielded alkaloids, cyanogenetic glycosides, tannins, phenolic compounds, flavonoids, among others. (24)
• Harmaline / Leaves: Study of a hydroalcoholic extract of Passiflora foetida leaves identified harmaline, a betacarboline alkaloid. Harmaline is found to have monoamine oxidase inhibitory effect and useful for antidepressant activity. Study reports on a simple, rapid, economic, and effective method for the separation of harmaline from Passiflora. (25)
• Antibacterial / Passiflora foetida Activated Carbon: Study evaluated activated carbon prepared from Passiflora foetida for bacterial efficacy against 12 different microorganisms. Results showed effective antibacterial activity with effective and high zones of inhibition against almost all the microorganisms tested. Activity was considerably more against Shigella flexneri (MTCC 1457) and Klebsiella pneumoniae (MTCC 10309). (26)
• Antidermatophytic / Leaves: Study evaluated the in-vitro antifungal activity of leaf and fruit extracts of P. foetida against three fungi viz., Trichophyton rubrum, T. mentagrophytes, and yeast fungus Candida albicans. An ethanolic leaf extract showed better antifungal activity against T. rubrum, followed by T. mentagrophytes and C. albicans. (27)
• Silver Nanoparticles / Antidiabetic: Study evaluated an ethanolic extract of P. foetida aerial parts and silver nanoparticles on carbohydrate metabolic enzymes of dextrose induced diabetic rats. Results suggest that P. foetida extracts and silver nanoparticles maintained glucose homeostasis and has potential in the management of diabetes mellitus. (28)
• Protective to Thyroid Function in Met-Amphetamine Receiving Rats: Study evaluate the effects of passiflora extract on serum T3 and T4 levels in Shisheh receiving male Wistar rats. Serum T3 and T4 significantly increased in rats receiving amphetamine. Passiflora extract showed protective effects on thyroid function in met-amphetamine receiving animals. (29)
• α-Glucosidase and α-Amylase Inhibitory Activity: Study evaluated the α-amylase and α-glucosidase inhibitory activity of P. foetida. GC-MS analysis yielded 27 bioactive compound from the seed ethanolic extract. Results suggest the bioactive compounds exert α-amylase and α-glucosidase inhibitory activity with potential for use in the management of diabetes. (see constituents above) (30)
• Analgesic / Antidiarrheal / Cytotoxic: Study of ethanol extract showed analgesic activity in acetic acid-induced writhing inhibition in mice. On castor oil-induced diarrhea, there was increase in mean latent period to diarrheal onset and decrease in mean number of stools. Extract demonstrated cytotoxic activity in the brine shrimp lethality assay. (31)
• Cytotoxic / Apoptotic / HeLa Cancer Cell Line: Study evaluated the cytotoxic and apoptotic effect of methanol extract of P. foetida on HeLa cell line cultured. Results showed apoptosis and dose-dependent cytotoxic activity with inhibitory concentration of 21.55 µg/ml . Phytoanalysis confirmed the presence of alkaloids, flavonoids, saponins, steroids, terpenoids, phenols, and cardiac glycosides. (33)
• Hypoglycemic Potential: Study evaluated the hypoglycemic potential of methanolic extract of P. foetida in alloxan-induced diabetic albino mice. Results showed significant reduction of blood glucose levels (p<0.001) along with significant lowering of kinetic parameters. (34)
• Antiproliferative / Human Cervical Cancer Cells / Antioxidative / Leaves: Study evaluated the antiproliferative and antioxidant activities of Passiflora foetida methanolic extract of leaves against various cancer cell lines. The extract exhibited high antiproliferative activity against HeLa with IC50 of 10.83 ± 3.65 µg/ml. Fractions showed higher IC50 values against HeLa. It also showed high antiradical properties (EC50 of 1.37 ± 1.17 µg/ml) and moderate antioxidant reducing power (0.41 ± 0.03 mM Fe). (35)
• Nutritional Composition / Antioxidant / Fruit: Study evaluat3d the main nutrients and antioxidant properties of P. foetida fruit. Fruits were found rich in amino acids (1097 mg/100 g), minerals (595.75 mg/100g), and unsaturated fatty acids (74.18 g/100 g total fat). Study for phenolic content yielded 65 compounds including 39 free phenolics, 14 insoluble-glycoside-phenolics, and 22 insoluble-ester-phenolics. The non-extractable phenolics exhibited significant antioxidant activities by DPPH and ABTS radical scavenging assays. (37)
• Antidiabetic / Leaves: Study evaluated the antidiabetic activity of leaf extract of P. foetida in a model of dextrose-induced experimental diabetes in rats. Results showed significant antidiabetic activity as evidenced by alterations in the measured biochemical parameters i.e., plasma insulin, creatinine, glycosylated hemoglobin, serum protein, and enzymes. (38)
• Anti-Osteoporotic Effect: Study evaluated the skeletal effects of butanolic fraction from P. foetida in an estrogen deficient ovariectomiy-induced bone loss mice model. Results showed an anti-osteoporotic effect likely through simulation of osteoblast function and inhibition of osteoclast function. (39)
• Anti-Inflammatory in LPS-Stimulated RAW264.7 Macrophages:: Study evaluated the anti-inflammatory effect of methanol extracts of P. foetida and the involvement of NF-kB signaling in the regulation of inflammation. The methanol extract prevented the production of prostaglandin E2 (PGE2) and the expression of inducible cyclooxygenase-2 (COX-2) in lipopolysaccharide (LPS)-induced macrophage cells. The ME also reduced the release of pro-inflammatory cytokines. Results indicated the PFME inhibited LPS-induced inflammation and oxidative responses. The ME may be therapeutic for treating inflammatory diseases. (42)
• Anti-Inflammatory / Flavonoids / Stem Bark:: Study of soluble ethyl acetate fraction and chemical components of stem bark of P. foetida isolated ten flavonoids (1-10) by various chromatographic methods. Luteolin (2) and chrysoeriol (3) showed most potent inhibition of nitric oxide (NO) production in macrophage cell line, RAW264.7, with half maximal inhibitory concentration (IC50) of 1.2 and 3.1 µM, respectively. The compounds suppressed LPS-induced NO synthase (iNOS) expression at the transcription level. The inflammatory benefits were attributed to the flavonoids. (43)
Availability
- Wild-crafted.
- Seeds, capsules and extracts in the cybermarket.