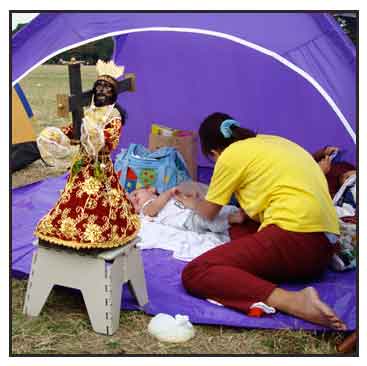 The early birds were staking their spots with blankets, tents and ground covers, all adorned with statues of the Nazarene, some as old as the owners' "panata," many make-do altars, big and small,
atop boxes and chairs, jeepneys and tricycles, many adorned with colorful collars or ephemeral garden of flowers. And each statue, big and small, draw unending lines of believers, silent in their prayers, wiping their shirt, hankerchief, towel or scarf on the Nazarene's face or cross – sundry pieces of cloths, now empowered, to call on for protection, for a favor, for a healing, for a miracle.
The panata, so essential to the devotion of the Nazarene. Perhaps, from a promise inherited from parents long gone. From a favor granted, a prayer answered, or a desperate need. The promise, the vow, the panata, perpetual, so deeply personal, that beckons them back, year after year.
One lady, now 36 years old, tending her baby, gladly shared her story. . . a panata started by her parents, when she was a child. She has been coming since, every year for the past 27 years.
By late afternoon, the park ground in front of the grandstand filled up fast. Footpaths snaked around camped spaces, Nazarene floats, and a scattering of commerce. Food stalls, balloon vendors, Nazarene trinkets, statuettes galore. A profusion of floats and ground altars, old and new, simple and ornate. Prayer candles sold and lit. Bare-chested men waiting for theNazarene image
to be silkscreened on their shirts. Maroon colorfully dominating the clothing and commerce of the landscape.


In the grandstand, the Nazarene statue received the unending line of faithful patiently shuffling on long-long lines, snaking four-deep, to wipe their pieces of cloths, to utter a hurried prayer, make a promise, renew a vow, or give thanks. While a giant television screens magnifies, and monster speakers amplifies, continuous servings of homilies and litanies, masses, prayers and hymns.
As night descends, streetlamps light up the ephemeral village of devotees, as thousands of candles
cast flickering illuminations on countless Nazarene altars. At three in the morning, the Nazarene lines were stopped, to prepare for the morning's procession. Weary devotees tried to catch some sleep, curled up under the floats, on blankets or cardboard matsor bare on their backs on asphalt pavements. Many more stayed awake, expectant and adrenalized by what would unfold in a few hours.